Searching For Your Lost Cat ? Act quickly!
After searching your home for your lost cat it is time search to outside. The best time to search for your lost cat is at dawn or dusk. Cats are crepuscular creatures; meaning that cats are more active during dawn and dusk. However, a night time search can be just as good.
When searching outside call regularly with a clear voice and a shake of their food jar or box. Since you will be searching when there is little noise, the sound of your voice or the sound of the food shaking will carry quite far. Listen carefully around you as you call out or shake the food. Meows and rattling noises nearby can be a sign that your cat is near and hears you. Continue to repeat this step various times at dawn, dusk or night. If your lost cat has not yet appeared after the search, leave your lost cat some food and water in your backyard or garden with a type of object that has your scent or the scent of something familiar to your lost cat.
You could also empty the contents of your vacuum cleaner or your cat's litter tray into your garden to help them smell their way home. Remember to keep changing these items every few days to keep the scent fresh.
increase your chances of finding your doglost or cat missing by boosting our Facebook post in your local area!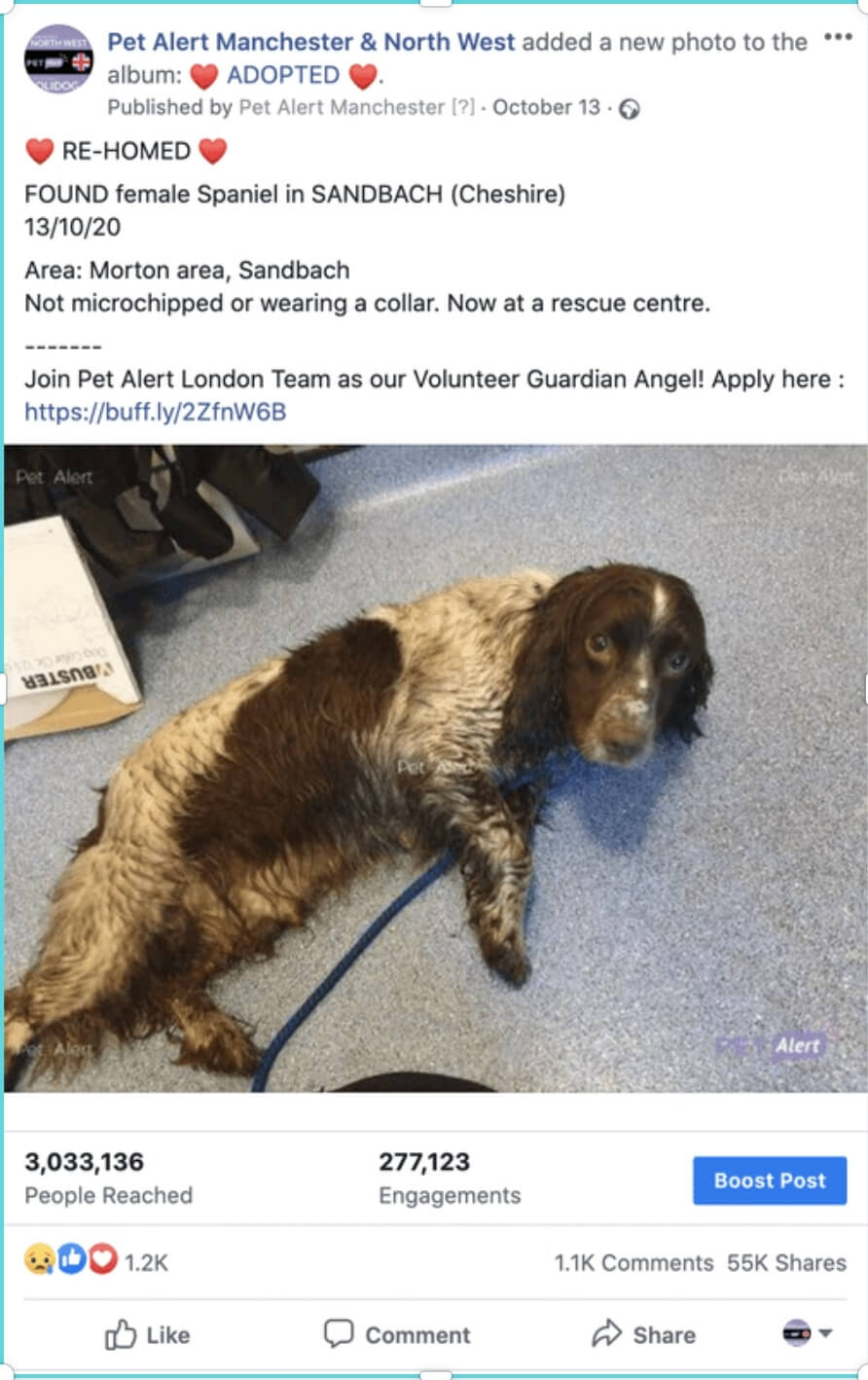 Pet Alert UK Boost will localize your search in an extremely precise geographical area – a 6 mile radius from where your dog or cat went missing. Last, but not least, your post will be displayed to all residents within the 6 mile radius, even those who are not followers of our page.
If, after the previous step, your cat has not returned do not give up hope! Stay positive and continue your search as much as you can. Here are some additional steps you can take to help in your search:
If your cat has been chipped, ensure that they information on file is correct and up to date!

Report your lost cat as missing to local veterinarians and animal shelters; if there are no animal shelters you can contact your local Animal Control Service or the RSPCA / other Cat charity and see if they can help with your search or share your lost pet.

Ask the neighbours to look in their cellars, garages, garden sheds, sheds, outdoor buildings and trees, all of these are places where cats can sometimes wander into.

Create fliers or posters with a recent picture of your lost cat with your phone number. Post the fliers everywhere you can. If your lost cat is chipped be sure to indicate that on your flier. Veterinarians can retrieve your contact information from the microchip for free.

Ask staff at your local newsagents or supermarkets if you can place a poster in their store and ask if they can keep a look out themselves.

In addition to making fliers, contact your local newspaper to place a lost cat advertisement. Sometimes local radio stations can broadcast lost pet information for free. Give them detailed information about your lost pet.

Postal Workers, Gardeners, Window Cleaners and Handymen are more likely to spot your lost cat as they work outside. Be sure to ask them if they have seen your pet and if they can contact you if they happen to find your lost cat.

Rated 9.8/10 by 10,000+ 🐶 & 🐱 owners